From PEZA – The Philippine Edge
Filipino Workers
Among the Best in the World
Literate, English-speaking, easy to train
Hardworking and Friendly
In the IT Service Sector, Filipino Workers are considered the new breed of world-class service professionals and are referred to as 

Global Knowledge Workers 

because they are intelligent and able to compete at the highest levels among the best in the world.
Very Fast Learning Curve of Filipino Workers
8 weeks (2 months) to train Filipino workers
Compared to 16 to 24 weeks (4 to 6 months) to train workers in other countries
What They Say About Filipino Workers
"We are highly satisfied with Filipino workers who are very bright, obedient, aggressive, cooperative and render holiday work." Toshiyo Miyabe, President, Nidec Philippines Corporation
"Filipino engineers are very talented." There are excellent colleges and universities in Cebu which produce very good engineers." Shinji Watadani, President, Tsuneishi Heavy Industries
"90% of our employees speak very good English, from the manager, down to the supervisor and to the operator level."Yutaka Matsumoto, Nidec EVP
"Their productivity is good. They are very friendly." Naoki Shiraishi, President, Yutaka Manufacturing
"Filipino workers are optimistic and obey the instructions of their employers." Rain Chien, Director of the Corporate Service Division, Metro Wear Inc.
"Filipino workers are "really loyal to their company, we always feel respected by them." Jacky Chen, General Manager, Tong Fang International
"English skills of Filipino workers is another key advantage compared to their counterparts in Vietnam, making communications between employers and employees much easier. There are many strikes in Vietnam, but within the economic zones in the Philippines, strikes will never occur if we follow PEZA regulations." Peter Liao, President and CEO of Headway Caps International
"Filipinos are more open than Taiwanese and Chinese, resulting in more creative designs and products. Paul-Yu Industrial Corp. has already opened five factories in MEZ since 2001 and intends to expand further in the near future. The infrastructure in Mactan is really favourable to business." Ken Yu, a special assistant to the chairman (his father) at Paul-Yu Industrial Corp.
"Filipino engineers are among the best in the world. Most of our engineers come from less fortunate families who have no option but to excel." Bing Viera, President, Texas Instrument (Texas Instruments began operations in 1979. Its total investments has reached Php 35 Billion and has expanded a US$1 Billion facility in Clark – Special Economic Zone under PEZA supervision.)
"The work force is very good. They provide a lot of value-added to our customers." Mike Petrucci, Former President, Amkor Technology Phils.
"Through my past experience of working in 17 countries' people, Filipinos are the best to work together with the Japanese. They are always with a bright smile, hospitable, obedient, hard working, and loyal. " Norihiko Maeno, Chairman, Maeno Giken Inc.
"The quality of workers in the Philippines is far better than that of Thailand and approximates that of Japanese workers at a fifth of the cost. About 80% of our work force are women "because they are better than men." I am Happy that local schools produce very good engineers." Masaaki Naganime, Former President, Fujitsu Computer (Retired)
"Filipino workers have fast learning curves because of two things – their English language proficiency and their being better educated." Virginia Melba Cuyahon, Former Country Manager, NXP Semiconductors Cabuyao, Inc.
"Filipino craftsmanship blended with Japanese technology can build world class vessels equal in quality to the best in the world." Osamu Kambara, Owner, Tsuneishi Heavy Industries (Japan), Inc.
Business-Friendly Policies
100% Foreign Ownership of Companies
Basic rights of Investors are guaranteed (right to remit profits and pay foreign obligations, right to repatriate investments)
Simplified investment procedures
Strategic Location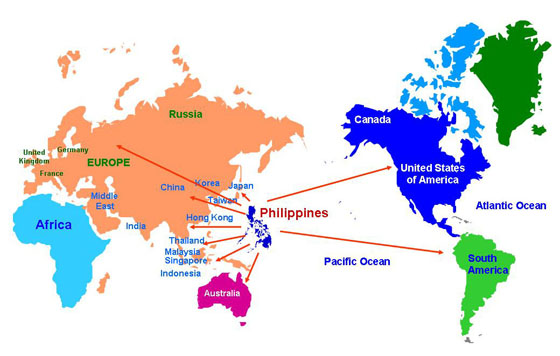 Very Hospitable and Comfortable Second Home to Expatriates
Very friendly attitude of Filipino towards foreigners
Availability of quality primary and secondary education. Presence of International schools
Housing closest to meeting western standards at very reasonable rental rates
Best sporting and recreational facilities
Many world-class golf courses
World-class health care services